Bridge Expansion Joints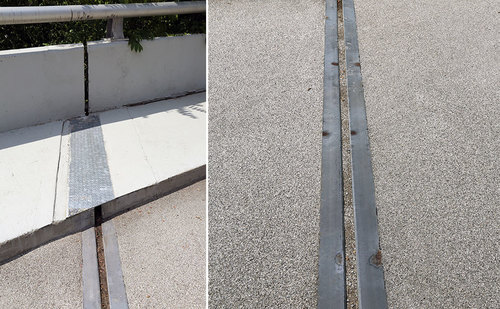 Bridge Expansion Joints
Price And Quantity
Product Specifications
10 Meter (m)

Galvanized, Plating
Product Description
Strip Seal Elastromeric Joint ( Movement which is up to 80 mm) In a Single strip expansion joint which is made up of 2 edge beams along with the anchorages and an elastomeric sealing component which is held definitely in the housing of verge beams that further assures and guarantees the water tautness and stiffness in the joint. The maximum and extreme gap which is in the middle of the edge beams at the road surface when the joint completely opens owing to extreme contraction of the deck which shall be restricted to the 80 mm for the comfortable channel of the traffic. The edge beams generally helps to safe guard the neighbouring bridge deck concrete from harm which is due to the vehicular effect and also relocate the vehicular burden to the deck structure all the way through the strong anchorage system. The characteristic single strip seal joint is described in the figure mentioned as below.


The first and leading need of an acceptable and sufficient joint design is that joint which should be adept and able of accepting all kinds of movements of the deck by means of Translation and rotation. In the entire process, it must not be a reason for intolerable and undesirable stresses which are either one in the joint themself or in the construction by the mode of restriction. An additional need or requirement is a low level of noise particularly in an inner - city or metropolitan environment .

Functions:


The foremost and first demand of sufficient joint outline is that joint must be able to accommodate every motion of deck viz. rotation and translation. In the procedure, it should not induce unaffirmed pressures either in structure or joint itself by the approach of restraint. An additional demand is least sound level particularly in urban surroundings. Hence, our expansion joints must be:

Must allow the contraction and expansion of span(s) to which this is attached devoid of any vibration or distress to structure
Induce no hazard or inconvenience to road customer and provide decent riding comfort
Must be able to endure traffic loads comprising dynamic effects
Base presented to traffic must be polish resistant and skid free
Guarantee availability for easy maintenance and inspections with every component vulnerable to wear is replaceable


Elastomeric joints of single strip seal:


It includes of double edge beams with anchorages as well as with elastomeric sealing component held strongly in edge beams housing that ensure joint water tightness. The optimum gap in edge beams at surface of road when joint completely encloses because of optimum deck contractions should be confined to 80mm for effective traffic passage. Further, the edge beams secures the joining bridge deck concrete against harm because of vehicular effect and additionally, transfer vehicle loads to structures of deck via strong anchorage system.

Most defenseless to vandalism contact stress of seal with steel sounding that is the prime for powerful fixing instrument decay extensively with age. Thus more protectors are required amid introduction for guaranteeing fancied level of pressure in the seal.

Trade Information
RDSO & MORTH approved source